Today...My Tribute to BRAK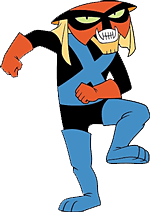 This is Brak. He is who I think I most resemble when it comes to cartoon characters. He originated on Space Ghost in the 60's, and was brought back to life by Andy Merill for Space Ghost Coast to Coast and then was given his own show, only to be canceled about 2 years ago.
So everybody, here is my salute to the funniest cartoon ever created.
Feel free to tell me who your favorite cartoon is, I promise I wont make fun of you.